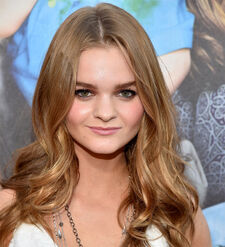 Kerris Lila Dorsey (born January 9, 1998) is an American actress and singer. She portrayed Sadie in Girl vs. Monster.
Biography

Edit
she is the best  known for her role as Paige Whedon on the TV series "Brothers & Sisters" from 2006 to 2011 and for playing Billy Beane's (Brad Pitt) daughter, Casey Beane, in the 2011 film "Moneyball". She recorded a cover of Lenka's song , "The Show" for the Moneyball soundtrack.
Dorsey has also appeared in the films "Walk the Line" and "Just Like Heaven". It was recently known that Kerris will be in the movie "McKenna Shoots for the Stars", about Girl of the Year McKenna Brooks. She will be playing McKenna's tutor, Josie. Her recent credits include two appearances on "Don't Trust the B---- in Apartment 23" and the movies "JumpRopeSprint" and "Girl Vs. Monster". She appeared  in a TV movie titled "Ray Donovan" in 2012.
She also played Cat in the "Shake It Up" episode, Copy Kat It Up.
Her older sister, Justine Dorsey, is also an actress.
To view the Kerris Dorsey gallery, click here.